Gwithian beach grenade detonated by Royal Navy bomb team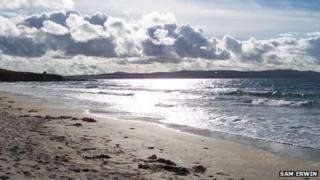 Bomb disposal experts have detonated a grenade which was found on a beach in Cornwall.
The discovery was made at Gwithian Beach by a member of the public at about 14:30 GMT.
The area was cordoned off by the local coastguard team and the Royal Navy bomb disposal team was called in.
Falmouth Coastguard said the ordnance was removed and safely detonated by personnel from the Southern Dive Unit at Devonport Naval Base, Plymouth.