Christopher Hines-Randle jailed over explosives threat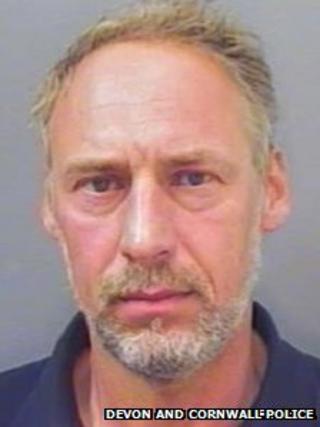 A man from Cornwall has been jailed for threatening to set off explosives and kill people, including his former wife and mother-in-law.
Christopher Hines-Randle, 54, of no fixed address, pleaded guilty to the charges at Truro Crown Court.
Police found an improvised explosive device in the car he had been sleeping in when he was arrested.
Judge Christopher Harvey Clark sentenced Hines-Randle to 12 years in prison.
Ruling that he posed a danger to the public, the judge also issued a restraining order, banning contact with his intended victims, who included his former wife, her mother, a doctor and a social worker.
Bomb 'diversion'
The court was told Hines-Randle was living in his car following the breakdown of his marriage.
Police arrested him on 21 June at the Threemilestone industrial estate after a witness came forward with concerns about his state-of-mind.
The suspect components - found in a biscuit tin in the foot well of the car - were forensically examined and found to be parts of an improvised explosive device.
A quantity of other substances seized from the car could also have been used to make an explosive, the court heard.
Hines-Randle intended to set off two devices - one in Penzance and the other in the Truro area - in order to divert police attention away from his specific targets.
Devon and Cornwall Police said they welcomed the sentencing.
In a statement, Det Con Andy Whittle said: "Hines-Randle was a very dangerous man and, if his plans had been allowed to continue, people's lives would have been put at serious risk.
"The victims involved in this case have had the stress and fear of Hines-Randle hanging over them for several months, especially his ex-wife and mother-in-law who have had to live with his threats for some considerable time.
"I hope that the substantial prison sentence that has been passed by the judge today gives them some comfort and allows them to get on with their lives."