Project to help Cornwall's discharged homeless patients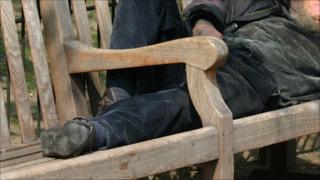 A project has been launched to help homeless people in Cornwall find accommodation when they are discharged from hospital.
In the past, many patients without a home have returned to the streets, according to homeless charity Shelter.
Cornwall Council said up to 90 people sleep rough across the county with many admitted to hospital.
The project is being run by the St Petroc's Society, Shelter, Cornwall Council and social housing providers.
An adviser based at the Royal Cornwall Hospital will try and prevent the discharge of people from hospital onto the streets.
The St Petroc's Society is trying to find flats in Bodmin, Helston and Truro where those without a place to stay can go after being discharged.
'Huge difference'
Shelter said flats would be available for about six weeks, while alternative accommodation was found.
Ian Byworth, Shelter's regional manager for Devon and Cornwall, said: "This will make a huge difference to people who would otherwise face the daunting prospect of leaving hospital with nowhere to go.
"We hope to be able to take away some of the stress and worry about where they will find a roof over their head, so that they can focus on getting back to full health."
Department of Health figures estimate homeless people attend hospital emergency departments up to six times more frequently than people with a home.
Anthony Ball, the tackling inequalities coordinator for Cornwall Council, said: "Breaking the cycle of homeless people becoming ill, being admitted to hospital, recovering, returning to the streets and falling ill again is an important part of caring for homeless people."
The Department of Health has funded the project.