Penzance carers ill-treatment cases dropped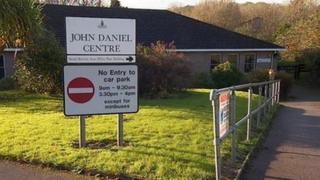 The cases against three carers accused of ill-treating or neglecting people with learning difficulties at a care home in Cornwall have been dropped.
Benjamin Jenkins, 23, of St Ives, Philip Sowden, 60, of Penzance, and Christine Keller, 59, of Hayle, had denied the charges.
The charges related to their work at Penzance's John Daniel Day Care Centre.
The three were found not guilty after the Crown Prosecution Service offered no evidence at Truro Crown Court.
Mr Jenkins and Mr Sowden had both been charged with two counts of a carer ill-treating and wilfully neglecting a person without capacity contrary to the Mental Capacity Act 2005.
Ms Keller faced one count of the same charge.
The charges covered a period from April 2007 to December 2011 after concerns were raised in November 2011.
The centre caters for more than 80 people with learning difficulties.
'Difficult years'
Nicola Haywood, of the Crown Prosecution Service (CPS), said: "When we initially reviewed this case we felt there was sufficient evidence for a realistic prospect of conviction.
"The CPS has a duty of continual review and, as part of this process, information came to light which meant there was no longer a realistic prospect of conviction."
The CPS would not elaborate on what the information was.
Cornwall Council, which runs the centre, said it was "not party to any discussion in relation to the withdrawal of the prosecution".
It added: "The council will continue to work closely with partners and people who use the service and their families to ensure high quality and safe service provision."
Mr Jenkins' father Brian said his son was "too emotional to talk about it today".
He said: "It's been a very difficult couple of years but he's had great support from friends and family. He is looking forward to moving on and putting this behind him."