Lee Hosking's sentence increased for multiple rape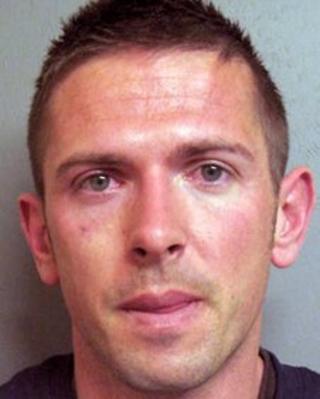 An RAF engineer who carried out a "brutal" multiple rape attack on a woman has had his jail term increased.
Lee Hosking, 28, from RAF Benson, Oxfordshire, previously pleaded guilty to three counts of rape at Truro Crown Court.
Judges at the Court of Appeal in London ruled that the original sentence of nine-and-a-half years was "unduly lenient" and increased it to 13 years.
Hosking attacked his 28-year-old victim in 2008 in Penzance, Cornwall.
Lord Justice Davis said Hosking carried out an "appalling" attack on the woman, who was convinced she was going to be killed.
He said Hosking's crime was "brutal, violent and sustained".
"He fled the scene when disturbed by members of the public and was only apprehended some years later as a result of thoughtful and careful police work and DNA analysis.
"The consequences on the victim of the events that night have been profound."
'Public reassurance'
Lord Justice Davis said the woman received lasting physical injuries and "long-term and deep psychological and emotional damage".
"Here there were multiple rapes - that is to say not just one rape, but several rapes.... The victim was a lone woman at night in a public street. What happened occurred in the most vicious and violent of circumstances," he added.
Speaking after the ruling, solicitor general Oliver Heald, who had asked the court to reconsider the original sentence, said: "This was an appalling incident in which the victim was repeatedly raped in a seemingly random act of extreme violence.
"She was in fear of her life and lived for years without seeing her attacker brought to justice.
"I hope this increased sentence offers some measure of reassurance to the public and a degree of comfort to the victim."