Perranporth beach naked body of Alan Jeal had sock in mouth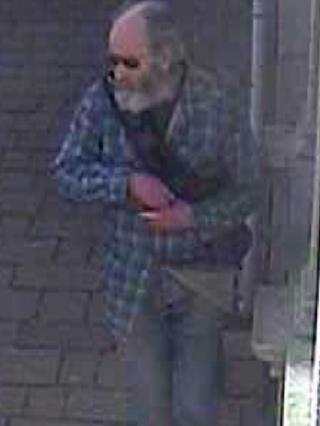 A man whose naked body was washed up on a Cornish beach was found with multiple injuries and a sock in his mouth, police have revealed.
Detectives are now investigating whether Alan Jeal, 64, from Wadebridge was murdered.
Police said "multiple injuries were found on his body which are inconsistent with drowning and cannot be easily explained".
Mr Jeal's body was found on Perranporth beach on 25 February.
Police said his body was also found with a shoe on one foot.
'Murder one possibility'
Some of his injuries were not consistent with him being in the sea, said police.
Det Ch Insp Dave Thorne said police "can't think of an explanation" as to why the sock was found in Mr Jeal's mouth.
"Officers are keeping an open mind as to the cause of his death," he said.
"Murder is one possibility we are considering, however his death may have been caused by accident or suicide."
Mr Jeal was seen in Truro city centre on the day before he was found dead.
It is believed he got a bus from Wadebridge to the Lemon Quay area of Truro.
Officers are trying to establish how he then travelled to Perranporth.