Richard Gibbons death: Camelford water poisoning not cause, coroner says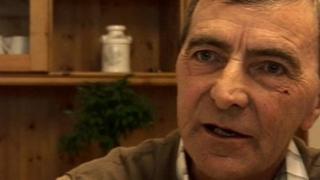 The death of a 60-year-old man was not caused by a water poisoning incident, a coroner has said.
In 1988, 20 tonnes of aluminium sulphate were tipped into the wrong tank at the Lowermoor treatment works in Camelford, Cornwall.
This contaminated the water supply to 20,000 homes, including the town of Tintagel, where Richard Gibbons lived.
After his death in May 2010, he was found to have four times the normal level of aluminium in his brain.
Last September, Health Minister Anna Soubry and Environment Minister Richard Benyon apologised "unreservedly" on the government's behalf for the incident, which was the UK's worst mass poisoning.
When it happened, despite nearly 1,000 complaints, the then South West Water Authority (SWWA) insisted the water was safe to drink.
Customers were told to disguise the "foul" taste of the water by mixing it with orange juice to make it more palatable. It was later fined.
Shortly afterwards, a range of health issues, including stomach cramps, rashes, and diarrhoea were reported, but it was 16 days before the poisoning was made public.
A report published last April by the Lowermoor subgroup of the Committee on Toxicity (CoT) of Chemicals in Food, Consumer Products and the Environment said the incident was "unlikely" to have caused long-term health effects.
However, the previous year, in March 2012, West Somerset Coroner Michael Rose said there was a "very real possibility" the Camelford water poisoning contributed to the death of 59-year-old Carole Cross, who also had very high levels of aluminium in her brain.
'Fit and healthy'
The coroner added that he was unable to conclusively say poisoning caused it.
Before he died, Mr Gibbons believed he was suffering from the effects of the contaminated water and asked his wife to have his brain examined.
His inquest in Taunton was told the health of a previously "fit and healthy" Mr Gibbons began deteriorating shortly after the Camelford poisoning.
He developed memory loss, ulcers, stomach pains, passed blood and had skin rashes.
In 2005 he was diagnosed with epilepsy and his condition became so severe he suffered up to seven epileptic fits a day.
A post-mortem examination found the cause of death to be aspiration of food due to epilepsy.
The inquest was told a link between the epilepsy and the water poisoning could not be proven, however, experts said Mr Gibbons' brain had "unusually high" levels of aluminium and "grossly reduced blood flow".
Expert witness Professor Christopher Exley, of Keele University, said the hippocampus area of Mr Gibbons' brain had a level of 4.35mg aluminium per gram dry weight of tissue - which was "abnormally high".
Other parts of Mr Gibbons' brain tissue appeared calcified and also showed "very high levels" of aluminium.
However, Dr David Hilton, a consultant neuropathologist at Derriford Hospital in Plymouth, said although he agreed that Mr Gibbons was exposed to aluminium and had high levels of it in his brain, in his opinion there was no evidence that aluminium exposure "made a significant contribution" to his death.
'Edge of science'
Sitting as deputy coroner for Cornwall, Mr Rose recorded a narrative conclusion at the inquest, saying a causal relationship between the aluminium and the epileptic seizure "could not be established".
He said he believed answers would eventually be provided through developments in science.
"I have the feeling that we are on the edge of science here," Mr Rose said.
"Somebody will, in 20, 30 or 40 years, be able to solve the problem immediately.
"I think if this case was heard in 30 years, it may go further."
He added that what happened in Camelford was a "disgrace" that should "never, ever happen again".