St Ives 'art treasures' re-discovered in gallery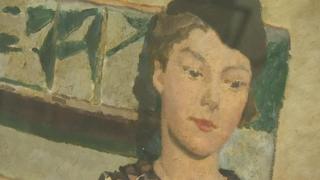 A "treasure trove of historically important" work by Cornish artists has been re-discovered in one of St Ives' oldest galleries.
The paintings and sculptures were found during refurbishment work at the Penwith Gallery.
The works, which were created by a group of artists called the "modernists", date back to 1949.
They have been removed for preservation reasons and for the paintings to be valued.
Work by Borlase Smart and Alethea Garstin, who was once dubbed "England's leading impressionist painter", have been found.
'Unbelievable find'
Miss Garstin was the daughter of the Newlyn School artist Norman Garstin.
Her subjects included scenery and characters she met while travelling through countries like Belgium, Italy, France, along with local scenes from the Isles of Scilly.
"It's unbelievable." said Chris Buck, chairman of the Penwith Society of Arts.
"We were very surprised with what we found - it's certainly historically important."
The works date back to when the Penwith Society of Arts was founded by the "modernists".
The term loosely covers artists that worked in the area between World War II and the 1960s.
The gallery said it had contacted some of the artists still living locally, who had thought their work had been lost forever.
Programme notes
Phoebe Wild, the curator of the gallery, said: "I have been ringing around to say that we had found their work. They were surprised. One said he had been looking for the work for 20 years."
A two-month refurbishment project is currently under way at the gallery.
John Piper, a local artist, said: "We've found details of meetings stretching back 60 years, and correspondence between various artists. We've got old programme notes and posters."
A photograph of the sculptor Barbara Hepworth, a founder member of the Penwith Society of artists, was also discovered.
The gallery is due to reopen later in the spring and some of the store room discoveries will be put on display.