Cornwall and North Yorkshire 'share' 999 fire calls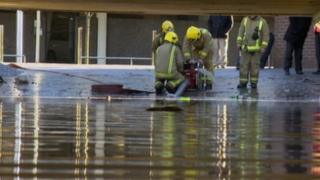 Emergency 999 calls will be shared by two fire services more than 350 miles apart.
It follows a decision by Cornwall and North Yorkshire to share a single "mobilising" system.
Both will retain their own control rooms but during busy periods - such as flooding - each can receive 999 calls and dispatch crews.
The geographic distance means they are less likely to be affected by severe weather at the same time.
Cornwall Council said it was the only project in England where such a remote collaboration was being done.
During severe flooding incidents, people calling 999 are not always able to get through immediately because of high demand, but under the new system, that would be reduced to a minimum.
The council said it would also allow for a fall in control room staff numbers, particularly during the night.
However, it said that did not mean job losses as staff would be "utilised for wider roles" in other council departments.
It was unable to give further details as consultations were currently under way.
Both fire authorities in Cornwall and Yorkshire have been given a government grant to cover the cost of setting up the system.
Cornwall Council said the projected "go live" date was March 2015 - two months after Cornwall Fire and Rescue's control room is due to move from Truro to a new purpose-built centre in Tolvaddon.
Geoff Brown, Cornwall's cabinet member for homes and communities, said it would provide a better service to the public and would also save taxpayers' money.
Stuart Pulley from Cornwall Fire Brigades' Union said there was some concern about future job losses.
"If it's about getting back up in exceptional circumstances - like the flooding in February - then we have no argument with it," he said.
"But we share North Yorkshire's concerns about the possibility of future job losses - particularly when budgets are under so much pressure.
"I am concerned about the plans for staff reductions and discussions will be needed."
No-one from North Yorkshire Fire and Rescue Service has been available for comment.