Caleb Hollow road death prompts Hayle road improvements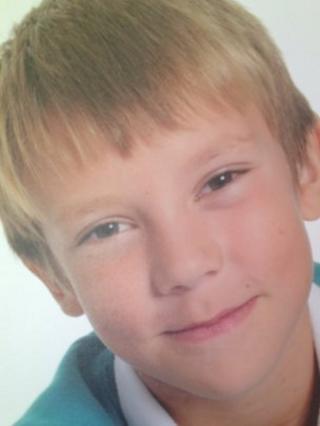 The death of boy who was hit by a car prompted traffic islands and better signage to be installed on the road where he was injured, an inquest heard.
Caleb Hollow's death while he was on his way to catch a school bus in Cornwall, led to a safety campaign.
Caleb, 11, later died at Frenchay Hospital, Bristol, after the car struck him as he was on his way to Bodriggy Academy in Hayle, in December 2012.
Coroner Barry Van den Berg's verdict was "death by road traffic collision".
Oliver Simms, the driver of the Audi car involved in the collision, told the inquest he had been driving at "just under 30mph (48km/h)" as he drew level with Caleb, who was waiting to cross the road to catch the school bus.
He said: "I saw movement out of the corner of my eye... I swerved and braked and heard a bang.
"I looked over my shoulder and saw him lying in the road."
'Absolutely devastating'
Another eyewitness said she had seen Caleb waiting to cross the road but he had not seen the car coming.
Mr Van den Berg said: "It is absolutely devastating to lose a child. It is something we never expect. Please take away our deepest sympathies."
Last February, about 100 people marched through Hayle calling for a pedestrian crossing to be installed on Loggans Road where the collision happened.
The road, which has a 60mph speed limit, runs past a housing estate and sheltered housing.
Last year, Caleb's mother Dawn Chapman told BBC News: "I don't want any other mother, family, to have to go through what we did - it's absolutely horrendous."