Police 'too busy' to deal with £1,000 pub theft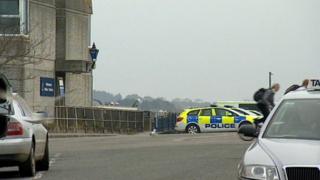 Police have apologised for saying they were too busy to deal with a pub theft even though the landlord knew the suspect was near to a police station.
Alan Jones called police saying £1,000 had been stolen from his Cornish pub.
Despite the suspect being metres away from Newquay police station, by the time officers called several hours later he had gone.
Devon and Cornwall Police apologised, but said officers had not been "drinking tea and eating doughnuts".
Mr Jones, who has declined to say which of the three pubs he owns was stolen from, said he called officers after closing time on Saturday after noticing the money had gone.
He then tracked the person he thought was responsible for the theft to the car park of the Travelodge hotel, a three-minute walk from the police station.
Mr Jones said being told police were "too busy" to walk across the road and make an arrest was "unbelievable".
'Service not very good'
Police said they called the Travelodge "in the early hours" of Sunday morning. No-one has been arrested in connection with the theft.
"What was even worse was being told 'the service we provide isn't very good'," said Mr Jones.
"I won't be calling them again in any future incidents - I'll deal with it myself completely."
Acting Ch Insp Tony Joslin said that when they were called "officers were extremely busy".
He added: "They were actively engaged in protecting members of the public and dealing with emergency incidents."
Ch Insp Joslin said even if there was enough money to double the number of police officers, there would always be occasions when the force would "run out of resources".
However, he said the case was being investigated and officers had "very good lines of inquiry in relation to the suspect".
"The publican in this case justifiably feels upset because he hasn't got the outcome he wanted and for that I apologise," Ch Insp Joslin added.