Search begins to unearth Cornwall's medieval theatres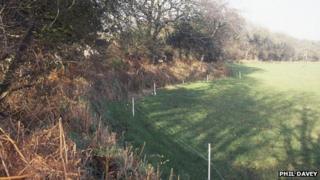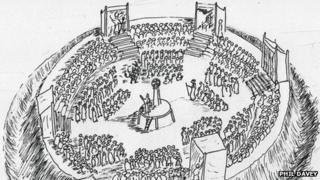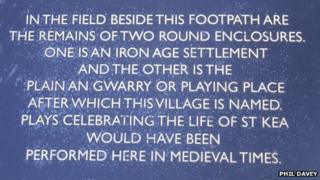 Perched overlooking the coast of west Cornwall, the hand-built Minack Theatre attracts audiences from around the world.
Such outdoor theatres today are rare but that has not always been the case.
There was a time when Cornwall was home to at least 70 small outdoor theatres.
Rod Lyon, who has researched the theatres, called playing places, or "plen an gwari" in Cornish, believes there may have been as many as 200 at one time.
"People hundreds of years ago weren't so interested in history as we are today.
"So, if a playing place fell into disuse, that was it. If farmers needed some old stones, they would go and pull them out. If it was useful material, it was taken.
"But it makes the work to find them much harder to prove. Each parish in Cornwall probably had one of these, so there could have been up to 200 at one time."
They were not carved out of cliffs like the Minack Theatre though. Many were fields with a circular wall or hedge around them.
The audience would sit in the circle while the actors carried out the action all around them.
The theatres offered a series of plays, some which were written specially for each area, and for some people were their only association with religious themes of the day.
Playing Place, near Truro, is named after the old outdoor theatre that once proudly stood in the area.
Phil Davey, who has lived in the village all his life, used to walk to school right where the theatre once stood.
He said: "The bank around the field would have been higher with tiered seating cut into it, with perhaps tents distributed around the edge where the actors would have performed from."
Further proof that a specially-written Biblical play would have been performed in the field came to light a few years ago.
A copy of the Bewnans Ke, the life of St Kea, was discovered in Wales in 2000. It has since been published in a limited run in its original Cornish and an English translation.
Mr Davey said: "There are two elements to the play. One is mainly about St Kea. The second brings in the life of King Arthur."
Will Coleman, who is part of the Playing Places of Cornwall project run by Golden Tree Productions, said: "Here in Cornwall they wrote the plays. They performed them in an extraordinary manner.
"We have got the oldest stage diagrams in the whole of Britain which show the stages stretched around you with the audience in the middle, participating in the Biblical epics.
"As time went by they got more colourful. The subject matters would become more Cornish, celebrating our Celtic saints."
Today two of these amphitheatres survive, at St Just in west Cornwall and Perranporth near Truro.
Mr Coleman said the ancient theatres were an "uncelebrated and unexplored treasure chest of our Cornish heritage".
He said: "I was down in Penryn and we found an example. All that is left is a curve of wall at the back of a car park.
"When you look at a map of 1595, the circular shape is clearly marked."
Thanks to funding from the Heritage Lottery Fund and the Arts Council, Golden Tree Productions is going to "thoroughly research and celebrate these 'lost' Plen an Gwari sites", Mr Coleman said.
Members of the acting community in Cornwall then intend to celebrate their discovery in style.
Mr Coleman said: "Imagine you're living in Beacon Crescent in Sancreed and your house is built where the theatre was.
"When we come to mark that site we will have to come into your house and do some medieval theatre."
Of those already discovered, there is often little evidence remaining.
In Cubert, near Newquay, a road runs right through the middle of where the playing place once stood.
"In Cadgwith you can see the circular shape, but it's completely overgrown," Mr Coleman said.
As part of the year-long search for the amphitheatres, an app will be launched to show which ones have been discovered.