Sinking cargo vessel off Cornwall towed into St Austell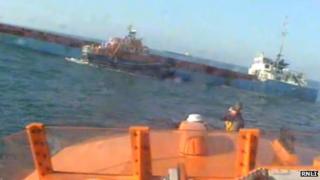 A cargo ship which started to sink off the Lizard in Cornwall, has been towed into St Austell Bay.
Divers have managed to plug a hole in the hull of the Sea Breeze, using a magnetic repair patch.
The six crew members of the ship, which was travelling from Liverpool to Shoreham in West Sussex, were rescued by RNLI lifeboats from the Lizard and Falmouth on Sunday.
Falmouth coastguards said "a couple" of the crew had minor injuries.
'Quite lucky'
The 87m (285ft) long Sea Breeze was carrying limestone and sent a mayday call at 07:00 GMT on Sunday.
An RNAS Culdrose helicopter was also called to the rescue.
Mark Pollard, the coxswain of Falmouth lifeboat, said: "We took all six crew members off. The master stayed behind initially.
"With the weather we've had the last few weeks it could have been a whole different story. They were quite lucky really."
HMS Tyne took part in the rescue operation, providing commercial pumps.
A damaged valve is thought to have caused the cargo ship to start sinking.
'No pollution'
Lt John-Paul Fitzgibbon, the Acting Commanding Officer of HMS Tyne, said: "We were involved in marine enforcement operations 30 miles away.
"We received the call and we headed towards the stricken vessel.
"My job was to be the eyes and ears of the coastguard on the scene and to check any stability changes to the ship."
Lt Fitzgibbon said he did not believe the damage to the ship was caused by "external forces".
A representative from the Maritime and Coastguard Agency, said: "Our surveyors will examine the cargo vessel to ensure it meets UK and international safety standards, once the repair work has been completed by the owners and operators ."
Jim Morrison, from Falmouth coastguard, said: "The ship is stable. No pollution has been reported."
The crew members are currently being cared for by the Mission for Seafarers in Falmouth.