Cornwall no-change parking meters make £300,000 a year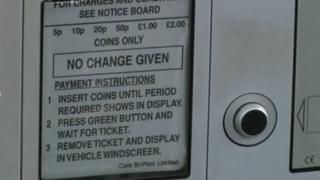 Cornwall Council is making more than £300,000 a year simply because its parking machines do not give change.
Last year, £11.6m was paid in parking fees, of which an estimated £307,293 was due to an "over-vend", a Freedom of Information request shows.
The authority said stocking 250 machines with change would be too problematic and costly.
According to the council's figures, in 2011/12 it made more than £340,000 from no-change pay and display machines.
'Prone to vandalism'
The authority, run by a Liberal Democrat-Independent coalition, said in a statement: "In Cornwall, there are over 250 pay and display machines in locations from Bude to Porthcurnow and if these machines gave change there would have to be a mechanism to ensure they were continually stocked with sufficient change and to address the situation if they were not.
"The logistical problems of doing this would be great and would result in a high cost.
"The 'base level' of change would also be left in the machines at all times making them much more prone to vandalism and theft."
It also said there was a cashless mobile phone payment system on some machines.
"The amount of overspend only represents about 2% of our total income from car parking charges," it said.
"Like any surplus parking income, it is used to support transportation requirements such as road maintenance and concessionary bus fares."