Storm-hit UK fishermen get quotas help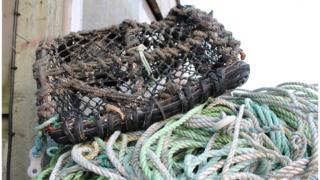 Fishermen who have been forced to keep their boats tied up in docks during storms are to be assisted by a relaxation on quotas.
Fisheries Minister George Eustice told BBC Devon the Marine Management Organisation had been asked to "be more flexible".
Many fishermen have lost a large number of days at sea because of a series of storms since the new year.
Mr Eustice has also announced help for fishermen who lost lobster pots.
Strain 'unprecedented'
Mr Eustice, who visited fishermen in Newlyn, Cornwall, said: "We have asked the Marine Management Organisation to be more flexible about how they allocate quotas so that any unused quota from the last couple of months will be able to be used in the months ahead.
"Fishermen have had a difficult winter with a loss of income because they have not been able to fish.
"They will with better weather, be able to get out there and make up the difference by using that unused quota."
The National Federation of Fishermen's Organisations (NFFO) said the strain fishermen were under was "unprecedented".
"The effects are going to be felt for a long time," said NFFO chief executive Barrie Deas.
"Obviously the more support that is given now, the quicker the industry will be able to get back on its own two feet."