Alan Jeal identified as man found on Perranporth beach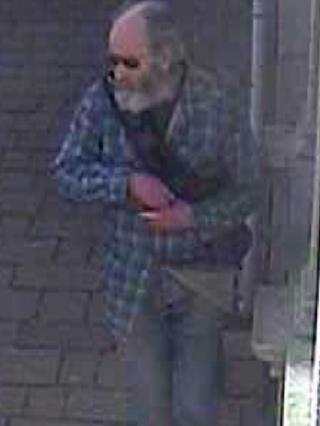 The family of a man whose naked body was washed up on a Cornish beach have come forward to identify him.
Police said he was Alan Jeal, 64, from Wadebridge.
His corpse was found on Perranporth beach on 25 February. He was wearing only a pair of socks and one shoe.
Detectives are treating the death as suspicious because of injuries on the victim's body. They said the injuries were "not consistent with drowning" and "cannot be easily explained".
Two family members called police giving Mr Jeal's name after an artist's impression was released to the media.
The investigation is now focusing on his movements in the days before his body was found.
A CCTV image was released by police showing the last known sighting of Mr Jeal on 24 February, shortly after midday in Wadebridge town centre.
Det Ch Insp Dave Thorne said: "Firstly, our thoughts are with Alan's family and friends at this upsetting time and we will do everything we can to support them.
"Now that we know his identity, we can progress with the investigation and try to find out exactly what happened to him."
A Regatta jacket, wallet and a photograph were also found on the beach.
It was believed the photograph found in the wallet showed Mr Jeal when he was two years old in his family home, police said.