Image released in Perranporth beach body mystery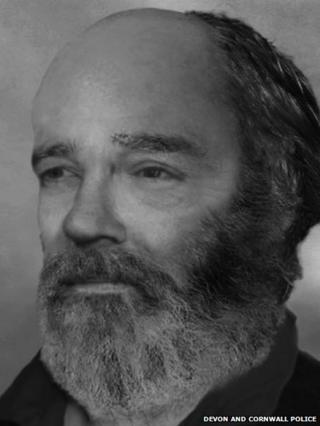 An artist's impression of a man whose naked body was found on a Cornish beach has been released by police.
His corpse was found on Perranporth beach on 25 February. He was wearing only a pair of socks and one shoe.
Devon and Cornwall Police are treating it as a suspicious death because of injuries on the victim's body.
He is described as white, aged 50 to 70, of thin build, about 5ft 6in tall (1.7m), with white receding hair and a thick white bushy beard.
Det Ch Insp Dave Thorne said he hoped "distinctive features" would help identify the mystery victim.
"By releasing this image we are hoping that someone will recognise him and come forward with his name, allowing us to progress with the investigation and bring us a step closer to finding out what has happened to him," he said.
"He is someone's brother, father, uncle or friend and someone somewhere will be missing him."
Police have previously released an old photograph, and pictures of a rucksack and a woolly hat which were found on the beach, although it is not certain they belonged to the victim.
Detectives say they have not ruled out the possibility that the man was thrown from a boat - saying it was "one of many possible lines of inquiry".
They believe the man was in the water for no more than 24 hours.