Perranporth Watering Hole in storm defences fear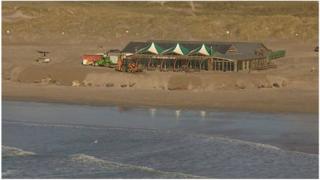 A Cornish beach-front bar left perched precariously on a sand bank after recent storms is reinforcing defences against more bad weather predicted for next week.
Diggers have shifted hundreds of tonnes of sand to protect The Watering Hole in Perranporth.
The owners fear the bar could be swamped by a huge swell and high winds which are forecast for Monday morning.
Manager Tom Job said: "We are in a very vulnerable position."
The 33-year-old pub was left stranded on top of a 15ft (4.6m) wall of sand after a huge section of the beach was swept away in the storms of recent weeks.
'Fingers crossed'
Winds of up to 44mph and waves up to 21ft (6.4m) high are forecast on Monday, with a spring high tide at 06:23 GMT.
Mr Job said: "We have had diggers and dump trucks going continuously as we have got really high tides through the weekend.
"But Monday is going to be bad. We have got two or three days to prepare for that one.
"It's fingers crossed about what we are going to see."
The pub has escaped any damage from the storms which have struck the South West coast.
"But this is the first time we have had a north westerly wind which is something we are quite worried about," said Mr Job.
"There's nothing else we can do.
"We are going to put in everything we can find and hopefully it will hold us together for the next few days."
Cornwall coastguards said on Friday that they had seen winds of more than 70 mph, with a yellow warning of wind, meaning be aware, from the Met Office.