Anger over Coverack road storm repair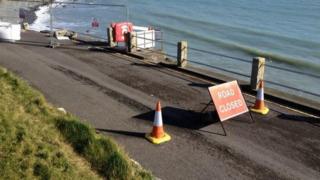 Businesses in a Cornwall seaside town which lost its coast road in storms have criticised the pace of repair work.
The coastal road at Coverack on the Lizard peninsula has been closed after the supporting sea wall was breached on 5 February.
Local restaurants say people are being put off by road closed signs.
Cornwall Council said it was working with contractors Cormac to complete the work "as quickly as possible".
Chloe Marsland, owner of the Harbour Lights restaurant, said businesses felt "cut off".
"It's a nightmare. The council has signed all the roads around Coverack with 'road closed'.
"There are a couple of signs saying businesses open as usual.
"But for people who don't know the village and don't know the way through, they are seeing the road closed signs and they are turning round and just leaving," she said.
Zoe Holmes, owner of the Bay Hotel, said: "It's very difficult for deliveries.
"It is quite a big drive to get from one side to the other. We really hope this will be dealt with as soon as possible."
Cornwall Council said in a statement: "We are very aware of the impact of the road closure on both local residents and businesses in Coverack and are working with partners to ensure that the works are completed as quickly as possible.
"Signs stating that the businesses in Coverack are open as usual have already been erected at both ends of the village and the views of local members and the parish council have been sought as to whether any further signs are necessary."