Cornwall Council approves £41m of cuts and 2% tax rise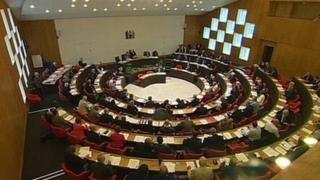 Council tax in Cornwall is to rise by nearly 2% after councillors formally approved budget cuts of about £41m.
The tax rise of 1.97% comes after three years of freezes and works out at 47p per week for an average band D property.
The ruling Liberal Democrat-Independent coalition said a spending squeeze from central government had left it with no choice but to raise it.
The budget was approved by 71 votes to 35, with one abstention.
The maximum increase local authorities can make without a referendum is 2%.
Cornwall Council's savings plans include about £12m cuts from adult care and health, including the closure of two respite centres for disabled youngsters,
There could also be cutbacks to road maintenance, street cleaning and weed removal, while plans to scrap mobile library services in the county are currently under consultation.
The council also approved plans for an 80p monthly charge to motorists who use electronic tags to cross the Tamar Bridge and Torpoint Ferries linking Devon and Cornwall.
The plans have already been approved by the crossings' co-owner Plymouth City Council.