Handbrake 'too loose' on Ann Pewter drowning car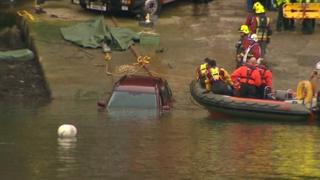 A woman drowned in a river after her husband put their car's handbrake on too loosely, an inquest has heard.
Ann Pewter, from Tavistock, Devon, died at the King Harry Ferry crossing point on the River Fal, Cornwall, last March.
Vehicle examiner Mark Richards told the inquest in Truro that the handbrake was not applied hard enough to hold the vehicle on the sloping slipway.
Coroner Barry Van De Berg recorded a verdict of accidental death on 74-year-old Mrs Pewter.
Her husband, David, who had been driving the Mazda estate, said he got out of the car to take a photograph.
The retired electrical engineer told the inquest he believed he had put the handbrake on.
He said: "To my amazement the car started moving slowly forward and I couldn't catch it.
"I thought it would stop but it just carried on and a few minutes later it disappeared."
The inquest was shown a video of the incident taken by CCTV cameras at the ferry offices on the opposite side of the river.
Mr Richards said when he examined the car the next day he found it was in neutral and the handbrake was applied by two notches out of six.
He said this was not enough to hold the vehicle on a slope.
Mussel diver Matt Vernon told the hearing he had dived down to the car about 12 times in an attempt to reach Mrs Pewter but the vehicle was in 25ft (7.6m) of murky water and he could only stay down for 30 seconds at a time.
The King Harry Ferry has been operating since 1888 and connects St Mawes and the Roseland Peninsula with Truro and Falmouth.