Hayle Wave Hub: Finnish firm for seabed 'socket'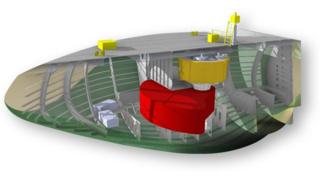 A Finnish company has announced it will test a new wave energy device using an electrical "socket" in the sea bed off Cornwall.
Fortum says it will trial the appliance at the Wave Hub, located about 10 miles (16km) off Hayle.
The £30m Wave Hub consists of a giant "socket" on the sea bed which is connected to the power grid by an underwater cable.
The facility has, so far, been unused since it was installed in 2010.
'Plug and play'
Heli Antila, chief technical officer at Fortum, said: "It is important to be able to quickly move forward into actual full scale array testing of wave power converters once they have passed the first stages of evaluation.
"The Wave Hub facility offers a unique opportunity to do this.
"This is as much like plug and play as it will get when it comes to power generation."
She said one device that could be deployed at Wave Hub is called the Penguin, developed by Finnish wave power company Wello, which uses the rolling action of waves to generate electricity.
Wind turbine plan
Wave energy company Seatricity announced last year that it is to plug a device into the Wave Hub.
And engineering firm Fred Olsen and Irish firm Ocean Energy have also said they want to deploy devices at Wave Hub.
The Wave Hub has four berths and it is likely another of these could be used to develop offshore floating wind technology.
These would be similar to the large wind turbines already familiar across much of the South West's countryside.
Wave Hub managing director Claire Gibson said she was "delighted" to have Fortum on board.
She said: "While much of the initial device design and development within the sector has been driven by individual developers, the direct involvement and investment by major utilities companies is likely to play a significant role in realising the potential of wave technology."