Scaffolding needed for Truro Cathedral storm damage inspection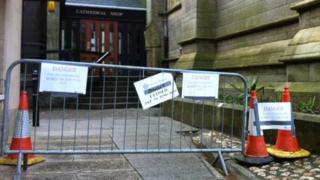 The amount of storm damage caused to Truro Cathedral cannot be confirmed until scaffolding is put up, staff say.
Over the past few weeks a mullion fell from an arch on the building's west side, which resulted in debris landing on the roof of the cathedral's shop.
Part of the grounds were cordoned off because of fallen stonework.
Cathedral director of operations Ellen McKessock said scaffolding would be erected within the next couple of weeks to carry out a detailed inspection.
Ms McKessock said the repair work would be carried out in conjunction with architects and the cathedral leaders.
She said: "Where the mullion fell from, it's inaccessible. We can't immediately see what damage has been caused, but we'll know after we put up scaffolding within the next couple of weeks.
"We have to be true to the heritage of the building."
She said there was a "difficult legal process" to go through to ensure any repairs were "in keeping with the building".
She added: "Most of it is built from Cornish granite, but the ornate parts were made with softer bathstone and it has not really stood up to the Cornish weather over the past 100 years.
"The current problem is probably related related to the bathstone."
Ms McKessock added she hoped insurance would cover the cost of most of the repairs, but that fundraising would also be carried out out to make up any shortfall if needed.
Last week, the cathedral said bell ringing was suspended "for the next few weeks" until repairs were carried out.