Rescued storm seals returned to the sea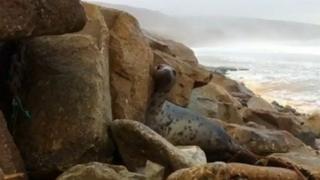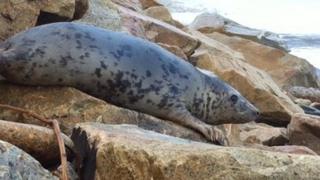 Three seal pups nursed back to health by the Cornish Seal Sanctuary after being battered in the storms have been released back into the sea.
The charity said seals have fared badly in the recent storms, with a number left injured or dead.
The sanctuary, based in Gweek, hopes the release will free up space for other injured animals.
Fourteen pups and adult seals were recorded dead on the shore in the last month, Cornwall Wildlife Trust said.
Three seal pups, Solar, Milky Way and Galaxy were returned to the sea at a secret location in west Cornwall.
Niki Clear, marine data officer at Cornwall Wildlife Trust, said: "The relentless storms hitting our coast have had a cumulative effect on animals which can usually cope with bad weather, but are now on really low reserves. Sadly, they are dying in large numbers."
David Jarvis, director of the British Divers Marine Life Rescue, said it had been an exceptionally busy winter with "over 100 rescue callouts, the vast majority of these have been to seal pups".
"In a typical year we would expect approximately 150 call outs in a whole year," he added.