UK storms: Harbour beams delivered to Porthleven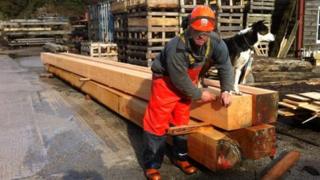 Wooden beams to replace those damaged at a Cornish harbour during the recent storms have been delivered to the fishing port.
Several boats sank after the Porthleven harbour barriers were smashed by the storms.
Remaining vessels were removed from the harbour, although many of those were also damaged.
The beams, made from trees delivered from Looe in south east Cornwall, were produced using Douglas fir.
Jo Burbridge, from Jo Sawmills in Mabe near Falmouth, said: "It's the sort of wood you would use for construction purposes. It's a very good wood.
"There are six in total. Each one is 10 metres (33 feet) long and weigh about a tonne (1000 kg) each."
The community in Porthleven has been fundraising for the fisherman.
The Atlantic Inn, based in the fishing port, staged a day of fundraising on Saturday, including a coffee morning, raffle and an auction.
The day-long event was held in aid of the Porthleven Fishermen's Association.