UK storms: Fundraising call for Cornwall victims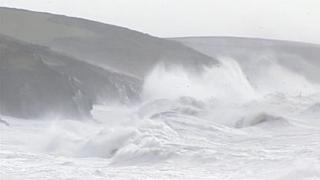 People in Cornwall are being urged to support those affected by the recent storms and floods.
In Porthleven, where several boats sank after the harbour barriers were smashed, a charity auction is being held to help fishermen.
The Cornwall Community Foundation (CCF) is appealing for donations for its new Emergency Storm Fund.
The Fisherman's Mission is appealing for funds to help fishermen who have been unable to get to sea for weeks.
The storms brought hardship to many boat owners in Porthleven, where boats were smashed in the harbour.
Vessels have now been removed from the harbour, although many of those were damaged.
The Atlantic Inn, based in the fishing port, is staging a day of fundraising on Saturday, including a coffee morning, raffle and an auction.
The day-long event is being held in aid of the Porthleven Fishermen's Association.
Fish prices have been rising in Cornwall as a result of dwindling market fish stocks, leading to concerns from that fishermen who have been trapped on land may risk sailing in dangerous conditions.
Net fishermen in Looe said the severe weather had resulted in some boats remaining in the harbour for up to two months.
They say they need a two-day window to successfully fish and that opportunity had not come their way.
The Fishermen's Mission has launched an appeal to raise funds so it can offer more of its immediate emergency grants of up to £500.
These can be used to help pay rent, bills and food.
A spokesperson for the CCF said it "urgently needs donations and pledges to make sure we can help those most affected by the recent storms in Cornwall".