UK storms: Kingsand clock tower in Cornwall inspected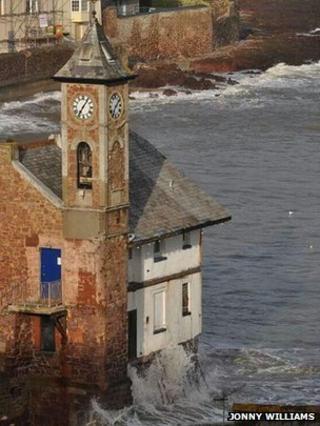 Inspectors from English Heritage have been assessing storm damage to a historic Cornwall clock tower.
The Grade 2 listed building at Kingsand near Torpoint is hanging precariously over the sea since suffering severe damage last week.
Inspectors from English Heritage met Cornwall Council conservation officers to give advice on the building, called The Institute.
Engineers have removed a balcony that was hanging on with one bolt.
An English Heritage spokesman said: "English Heritage is committed to working with local communities to help them best protect their heritage when it is at risk.
"We will offer our expertise to assist in the preservation of The Institute, Kingsand.
"Particularly, we will offer advice and expertise in conservation engineering, to safeguard the structure in the best way possible."