Panamanian vessel held in Cornish port over safety concerns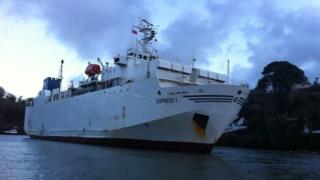 The crew of a ship are currently stuck in a Cornish port after their vessel was detained over safety and welfare concerns.
The Express 1 was towed into Fowey after suffering engine failure.
The Panamanian-registered ship's crew consists of 15 Syrians, eight Filipinos and two Romanians.
The Maritime and Coastguard Agency (MCA) said a detention notice had been served because of "a number of safety issues" concerning the crew.
MCA inspectors confirmed the problems included concern over the crew's emergency training, the ship's fire detection system and sub-standard accommodation.
Paul Thomas, the harbourmaster of Fowey, said: "I have seen a list of defects highlighted including no heating, no hot water, no ability to serve hot food and unhygienic water supplies.
"No one is saying life at sea is easy but there's minimum standards and they were not there. It's just not acceptable."
Elaine Elliott from the Mission to Seafarers in Fowey, which has been looking after the 25 crew members, said: "We've been able to give them jumpers, shoes and warm jackets.
"I think the mission was in the right place at the right time for these boys."
'Outrageous conditions'
In a statement, the MCA said: "This notice, which prevents the Express 1 from sailing, will remain in place until the necessary improvements are carried out by the vessel's owners."
Mr Thomas said the owners of the ship had brought in contractors to bring the vessel up to MCA standards.
A spokesman for Fowey Docks said the Express 1 should be fit to sail again within a week.
Tommy Malloy of Nautilus International, which campaigns for the rights of seafarers, said conditions on board were "outrageous".
He said: "The work of the mission is tremendous, but it is outrageous that the crew's employers have let the mission to take on its responsibilities."
No-one was available for comment from the vessel's operators, Istanbul-based Emiroglu Deniz Nakliyati.