RNAS Culdrose 'busiest' English search and rescue base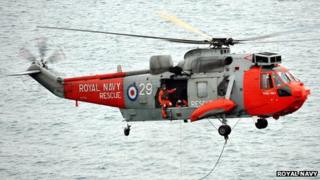 The search and rescue (SAR) base at RNAS Culdrose in Cornwall was the busiest unit in England last year.
According to government figures, 771 Squadron was called out a total of 257 times in 2013.
RNAS Culdrose provides cover across Devon and Cornwall and up to 250 nautical miles off the Isles of Scilly.
Earlier this month a Culdrose helicopter winched a fishing crew to safety after their vessel foundered off the Cornish coast.
'Reassuring sight'
The average flying time of a Sea King at the naval air station was about one-and-a-half hours - at an average distance of 35 miles from Culdrose.
Force commander Cdr Andrew Rose said the Sea King's red and grey livery was "a reassuring sight to many fishermen, residents and holiday makers".
The squadron at RNAS Culdrose should be "justifiably proud" of the outstanding job they performed "day in day out, often in the harshest of weather and environmental conditions", he added.
Across the rest of the UK, RAF Valley in North Wales responded to 335 call outs, while HMS Gannet in Scotland had 329.
Of the 12 SAR units in the UK, the Royal Navy operates two, the Royal Air Force has six and the remaining four are operated by the Maritime and Coastguard Agency.
Last year the US-based Bristow Group won a 10-year, £1.6bn contract to run the search and rescue service from 2015, which will see the work currently being done at RNAS Culdrose moving to Newquay Airport, while RAF operations at RMB Chivenor will relocate to St Athan in Wales.