Storms send Newlyn fish prices rocketing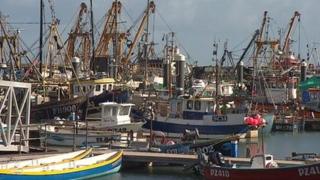 Fishermen who have been trapped on land as ferocious storms batter Cornwall's coast may risk sailing in dangerous conditions, a leading fishing organisation has warned.
Dwindling fish market stocks have led to soaring prices and the Cornish Fish Producers Organisation (CFPO) said that could tempt skippers to take risks.
Most of the Cornish fleet has been docked for at least six weeks.
As a result some wholesale prices have nearly doubled.
Andy Wheeler from the CFPO said: "This time of the year when the weather's poor and supply is at a premium, there are a number of fisherman who put a hard face on it and go out there and do quite well out of it.
"They will be more at risk. It's inevitable they will do it. Even the smaller boats have been struggling in this prolonged bad weather. It's a lot more uncomfortable to work."
Mr Wheeler said the fishermen had all the appropriate safety gear and knew the limitations of their boats, but would be "going out in weather they wouldn't normally go out in".
'More risks'
About 700 vessels and 1,200 fishermen supply Newlyn - but stocks have been down as storms keep boats tied up in dock.
Earlier, the market had about 60 crates of fish when it would usually expect 200-300 crates.
Tom McClure, a fisherman in Newlyn, said: "The smaller the boat, the harder it's got.
"It's very difficult. No fish, no pay."
Market superintendent Lionel Washer said: "The boats are coming in with about half of what they should be.
"My concern is that fishermen will be tempted to take more risks and push it a bit too hard in weather they shouldn't be out there in."