Cornwall mobile library service future questioned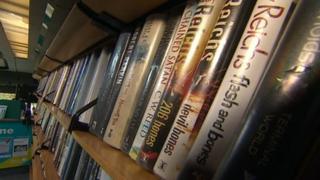 Proposals to end Cornwall's mobile library service would cut off a "lifeline" for people in rural areas, an independent councillor has claimed.
The council said it needed to save £1.3m from the area of its budget that includes libraries.
It suggested community libraries in places such as pubs could fill the gaps and a public consultation is under way.
Independent Cornwall councillor Mark Kaczmarek argued it was the wrong service to target.
Six mobile services cover most of Cornwall, costing more than £300,000 a year in staffing and transport costs.
'Second best'
The service has been under review with officers from the Liberal Democrat-Independent unitary authority analysing how much each library visit costs the taxpayer.
The council said one mobile service, which covers Tintagel, St Blaise and the St Dennis area costs £39 per visit.
Mr Kaczmarek said: "When it comes to savings and cutting the service completely that's where we have to draw the line.
"We do need to supply a mobile library service where it is very well used. This is a lifeline for a lot of people in rural areas."
Mobile library user John Hodgson from Frogpool, near Redruth, said: "Before we accept community libraries, how can we save our mobile libraries? Anything else, I'm afraid, is second best."
Adam Paynter, Cornwall Council cabinet member for partnerships, said: "The existing mobile service is facing a 50% budget cut and we are undertaking this 12-week consultation on plans to potentially cease the mobile library and mobile one-stop shop service, replacing it with a number of community based initiatives."
The council said it had successfully opened small libraries in Roche and St Dennis and in pubs at Lerryn near Lostwithiel.
The public consultation, which started at the beginning of February, is running for 12 weeks and any final decisions will be made by the council's cabinet later in the year.