Looe fishermen count the costs of storms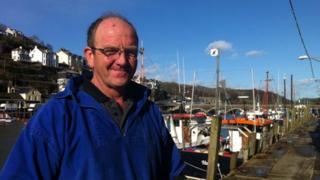 Fishermen say the severe weather is affecting their community with boats remaining in the harbour for up to two months.
Net fishermen, from Looe, Cornwall, say they need a two-day window to successfully fish.
Pengelly's fish shop in Looe said one fisherman did manage to get out but without him there would be no stock.
This week in Porthleven six boats sunk in the harbour as a result of the bad weather.
'Unbelievable destruction'
Dave Bond, who has been fishing in Looe for 38 years, said: "Obviously we can't get out to sea so we can't earn anything. It's not good
"I have never know anything like this. It's really bad. The trawler men can snatch a day, but when you're working nets you shoot the nets one day, and haul them the next, and we haven't been able to swing two days together."
Jackie Provost, a partner at Pengelly's fish shop, said: "We were just lucky we had one boat go out.
"We call the fisherman Richard the brave, we're so grateful to him. We were just grateful he could go out, apart from that we wouldn't have had anything."
Six boats sank in the harbour at Porthleven after 30ft (9m) waves breached the breakwater.
David Trickonie said: "My boat has got a big hole in it and that will never sail again.
"It's been unbelievable. I was here in 1989 when we had a severe storm. The destruction now has outweighed that. It's unreal."