Le Sillon wreck: Looters warned after items taken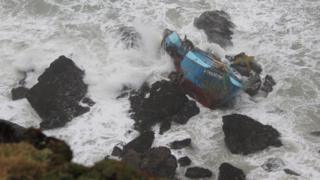 Looters have been warned to stay away from a fishing boat washed up on rocks in Cornwall after items were taken from it.
Six fishermen were rescued after Le Sillon foundered in "treacherous" conditions on Saturday.
The Maritime and Coastguard Agency (MCA) said people who had removed items must report them within 28 days to avoid a fine.
A decision is yet to be made on what to do about the wreck near Porthcothan.
The RNLI's Padstow lifeboat tried to tow the boat to safety, but the tow line snapped and it was deemed too dangerous to try again.
'Increasingly muddy'
Matt Pavitt of the MCA said the main concern was "public safety".
He said the cliff path was "increasingly muddy - people are going to look at it and our concern is they will get into difficulty".
A spokesman for the MCA said the wreck of the French fishing boat was expected to "continue to break up, due to the recent bad weather".
"All wreck material recovered must be reported, however small or seemingly insignificant," he said.
"The type of material that must be reported includes any part of the hull, fixtures, fittings, cargo and any fishing equipment."
People who do not declare items "could find themselves facing fines of up to £2,500," he added.
The rescue of the crew saw five winched from the sea by a RNAS Culdrose helicopter, with a sixth fisherman rescued by lifeboat.