Cornwall school praised by Ofsted for fast turnaround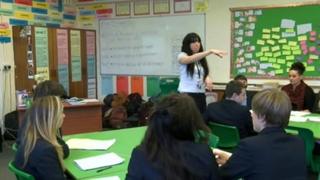 A Cornish school has been lifted out of special measures after one of the fastest turnarounds, Ofsted said.
Inspectors have upgraded St Ives School after six months and 23 teachers have left or been replaced.
However one teaching union said the secondary school should never have been in special measures in the first place.
The education watchdog toughened up its inspection framework in 2012 leading to some schools being downgraded or put into special measures.
In May inspectors said St Ives School did not expect enough of its 700 pupils, and the school lacked strong leadership.
Richard Schofield, an executive head with experience of improving schools stepped in.
The average time it took for a school to come out of special measures in 2013 was 16 months, said Ofsted.
Mr Schofield said: "Students deserve the best and parents expect high standards.
"The school has built and improved from the last inspection. Maybe history books will show the school needed, in part, a bit of a wake-up call."
Inspectors said it still required improvement, and more work was needed to ensure all students made progress.
From April the school is set to become an academy.
The NASUWT teaching union has criticised Ofsted, claiming schools are being coerced into becoming academies after failing inspections.
Kathy Wallis, a Cornwall representative of the union, said: "More schools that are not academies are being put into special measures, and then being forced to become academies whether they want to or not."
Bradley Simmons, Ofsted's director in the South West, said: "There is no political agenda from us in terms of placing more schools into special measures.
"We have absolutely no view in Ofsted as to whether schools should be academies or local authority schools. Every school should be a good school."
Mr Schofield responded: "If there's one thing I know for sure it's the quality of teaching and learning that has the biggest impact on students' life chances and that's where we should be focussing our attention."