Devon and Cornwall storm: Kingsand evacuation as windows smashed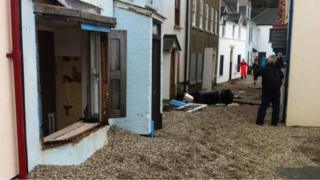 Twenty homes were evacuated and windows broken as stones picked up by huge waves smashed windows in a Cornwall coastal town.
Kingsand was among the worst storm-hit Cornwall communities, alongside Newlyn, Penzance, Looe, Mevagissey and Fowey.
A clock tower on the seafront is thought to be in danger of collapsing after waves driven by winds of about 70mph topped sea defences in Kingsand.
Evacuated residents are staying in a rest centre at Kingsand Village Hall.
Claire Wallerstein, who was evacuated from her house, said: "The waves are unbelievable.
"Just before high tide there was a freak wave that smashed our gate and in seconds the big sheds in our garden were smashed.
"It's been terrifying. It hasn't stopped.
'Iconic building'
A clock tower is hanging precariously over the seafront after the storms hit on Tuesday night.
"A lot of the foundations have come away," said Ms Wallerstein.
"That is the iconic building of the village. It could fall down today. It makes you feel so vulnerable.
"I grew up here and I have never seen it this bad."
BBC Radio Cornwall's Johnny O' Shea, in Kingsand, said: "The level of damage in the village is quite extraordinary.
"Windows have been smashed, doors are lying in the road. The sand is several inches deep along the road."
George Truebody a local county councillor said: "The clock tower is being looked at by Cornwall Council.
"They are keeping people away from the building. We've just got to keep an eye on it with more bad weather on the way."