South Western Ambulance Service heart attack response target missed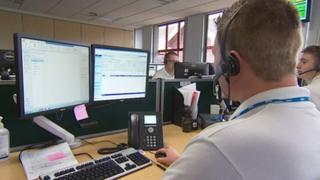 The ambulance service in Cornwall has failed to meet its response target for the most critically ill patients, figures have revealed.
Recently, the South Western Ambulance Service reached 67% of patients within eight minutes, but the national target is 75%.
The figures relate to Red 1 calls which include people having a heart attack.
The service said a small number of calls were in this category and it was working hard to improve its response.
A South Western Ambulance Service report found it had reached 67% of cardiac arrest patients in eight minutes between 21 and 28 January and 70% between 15 and 21 January.
'Chaotic launch'
The NHS non-emergency 111 number went live in Cornwall at 11:00 GMT.
The facility - which replaces NHS Direct - is for patients with urgent but not life-threatening symptoms.
The service is being run by the South Western Ambulance Service, which also operates 111 in Devon, Dorset and Somerset.
It said the new helpline should ease pressure on blue-light ambulances because it was running both the 999 and 111 lines.
In some areas, the launch of the service was described as chaotic, with inappropriate referrals putting extra strain on already hard pressed hospitals and ambulances.
These fears prompted the delay of 111 being launched in Cornwall last April.
Deputy director of services Neil Le Chevalier said: "What we're hoping is the public will understand that there's an alternative to 999, and it will reduce the demand for 999, releasing those resources for high-priority patients."
NHS Kernow has commissioned the service and said it would closely monitor the impact of 111 on other emergency services.