Troon traders report losses as collapsed road remains closed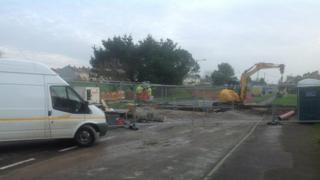 Businesses say they are losing trade in a Cornish village where a road collapsed, after being told it will not reopen for another week.
The collapse in Troon near Camborne is believed to have been caused by an old mine tunnel under the road.
Two sewer pipes running through the hole also fractured soon after.
South West Water (SWW) said it hoped to have the road partially open soon, but it would not be fully opened until 7 February.
David Moyle, a butcher, said: "I have lost at least 20% of my trade. Regular customers can't get down."
Deborah Bennetts, who runs a fish and chip takeaway, said: "Passing trade is non-existent. As you look outside now you almost expect to see tumbleweeds passing through."
The water company said when the road collapsed in mid January it was thought to be a disused tunnel from old mine works.
SWW said it had worked with Cornwall Council and the police to cordon off the area.
On 23 January two sewers running through the void collapsed.
SWW ordered replacement pipes and work started on Thursday but it will take more than a week to complete.
In a statement the company said: "This is a complex repair but we are working as fast as we can and will continue to liaise with Cornwall Council during this time."