St Christopher's and Red Wing respite centres closing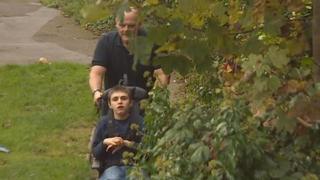 Two respite centres providing short breaks for young people in Cornwall with learning disabilities are to close in September.
The closures of St Christopher's in Redruth and Red Wing in Truro were proposed by Cornwall Council in October as part of its draft budget.
Last year the council spent £5m on respite care at its six centres across the county.
One parent said the impact of the closures would be "immense".
'Greater choice'
Both centres provide planned short breaks for children and young people aged between five and 18 who have a severe learning disability.
The closures will affect 37 children and 26 members of staff.
Simon Judge's 15-year-old son Gabriel, who has cerebral palsy and severe autism, spends one weekend a month at St Christopher's.
Mr Judge said this not only gave him and his wife a break from full-time care, but also provided Gabriel with a social life.
"The impact will be immense - Gabriel uses it as his point of socialisation, because unlike a child without disability who can go to the park, Gabriel can't," Mr Judge told BBC News.
"Change for any of these children - whether they have autism or not - is very, very difficult."
Cornwall Council said a recent review of its residential short break services found high costs in comparison with national averages.
The council said closing the centres was a difficult decision to make, but it insisted that Cornwall's vulnerable children would be properly assessed and needs would be met on an individual basis.
Councillor Andrew Wallis said families would be offered alternative provision, such as direct payments which would give them "greater choice" over care.
"It's very difficult when you close down centres... but what we're trying to do is make it better for families," he said.