Disused Rosudgeon mineshaft opens under main road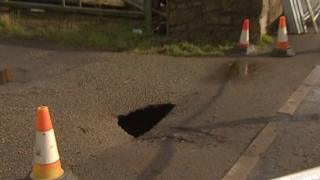 Part of the main road between Helston and Penzance in Cornwall has been closed after a disused mineshaft opened up.
It left a 10ft (3m) hole at the side of the road on the A394 at Rosudgeon.
Mining historians say the area is "riddled" with such workings.
Cornwall Council contractors have set up traffic controls in order to excavate the hole, see how deep the mineshaft is and to deal with it.
"Once we open up the feature, we'll have a good idea of what different types of remediation we can employ," engineer Brian O'Connell told BBC News.
"If it's a shaft feature we can look at using a concrete plug maybe, or even a structural slab," he added.