Flybe picks up flights between Newquay and Southend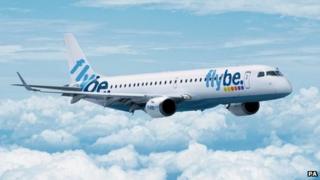 Flybe has taken on summer flights between Newquay Airport in Cornwall and Southend in Essex after they were ditched by Easyjet.
Flybe said it would run three flights a week from May to September.
It will also be running a twice daily route between Newquay and Gatwick until October.
The company said summer air services to Cornwall were an "essential part of the tourism jigsaw that supports the South West's leisure economy".
'Critical for region'
Easyjet announced earlier this month that it was pulling out of the summer route to Southend, but did not give a reason.
Newquay managing director Al Titterington said Flybe's decision was "great news" and a "real boost" for the airport and Cornwall.
"We cannot overstate the importance of maintaining and developing leisure services into the county that help support the tourism economy. It's critical for the region."
Flybe has warned that it could drop its flights between Newquay and Gatwick unless the airport's owner, Cornwall Council, wins a government subsidy to support it.
Cornwall Council subsidises the operations at Newquay Airport by about £3m a year.