Delays anger Looe landslip death family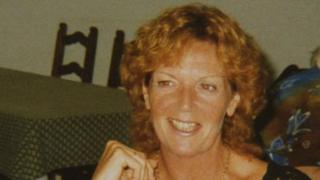 Relatives of a woman who died when her home collapsed in Cornwall have been angered at the amount of time it has taken to recover her possessions.
The body of Susan Norman, from Looe, was recovered several hours after the building collapsed last March.
But her family say it took eight months to gain access to the property and Ms Norman's belongings.
Cornwall Council said police and Health and Safety Executive investigations were ongoing.
Ms Norman's daughter, Helen Hazeltine, has told BBC Inside Out of the moment she arrived at the collapsed property.
"It wasn't recognisable. The back of it was completely gone it was just tonnes and tonnes of earth and I thought there's no hope at all and that was it," she said.
"I just stood there in the rain waiting for them to find her really - I knew there'd be no hope."
'Absolutely fuming'
Ms Norman's son, Matt Boden, criticised the local authority's handling of the tragedy.
He said: "We've not had any response from them actually. I've never had a call from anyone senior at the council."
Mrs Hazeltine said "We have never had an offer of support, a phone call, a letter - absolutely nothing.
"I feel that the way they've dealt with this is very insensitive."
The council said: "This is a very tragic incident and we offer our condolences to the family and friends of Susan Norman."
The residents of Sandplace Road in Looe, where Mrs Norman lived, said previously they had warned the council the slope behind their houses was not safe.
Just before Mrs Norman's death, 14 residents sent the council a 60-page dossier listing their concerns.
Mrs Hazeltine said: "I feel I've been robbed and I feel my children have been robbed of ever knowing her and knowing what a wonderful person she was.
"It shouldn't have happened and I'm absolutely fuming."
Cornwall Council declined to comment on the dossier, saying it would be inappropriate while the police and health and safety investigation was ongoing.
There is more on this story on Inside Out South West on BBC 1 at 19:30 GMT on 27 January.