Cornwall's main hospitals reviewed by CQC inspectors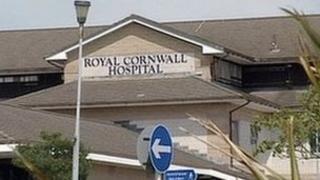 The Royal Cornwall Hospitals Trust (RCHT) is undergoing its most rigorous ever review.
Inspectors from the health watchdog, the Care Quality Commission (CQC), are scrutinising services at the trust's hospitals in Truro, Hayle and Penzance.
It is part of a new national inspection regime, set up in the wake of the Stafford Hospital scandal.
The RCHT has been chosen as one of the first to undergo scrutiny as it has applied to become a foundation trust.
Foundation status is only awarded to top-performing trusts and it gives them greater freedom from government to decide their own strategy and the way services are run.
They also have greater control over their budgets.
If inspectors are not satisfied with the quality of services, the bid could be refused.
Target missed
As well as sending in inspectors to talk to managers, staff and patients, the CQC has also asked the public to share their views of hospital care at public meetings in Truro and Penzance.
The commission will also ask people what they think of their GP practices and the out-of-hours doctors service in Cornwall.
These views will form part of future inspection reports.
The latest figures show the Royal Cornwall Hospitals Trust failed to meet a key accident and emergency target.
Just under 78% of patients were seen in four hours in the emergency department, in the week to 12 January, compared to an average of around 92% in major A&E units in England. The target is 95%.
The emergency department is one of eight areas the CQC will be looking at in detail.
The others are: medical care, surgery, intensive and critical care, maternity, children's services, end-of-life care and outpatients.
A full report of the findings will be published in about six weeks.
Under the new system, the trust will be rated as outstanding, good, requiring improvement, or inadequate.