Royal Cornwall Hospital 'second worst for seeing emergency patients'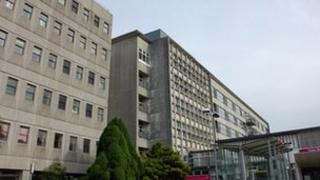 The Royal Cornwall Hospital was the second worst in England for seeing emergency patients within government target times, according to figures in the BBC's NHS Winter report.
The Truro hospital saw 78% of such patients within four hours in the week up to 12 January. The target is 95%.
Some bed blocking has been blamed and local health commissioners said such figures rang "huge alarm bells".
They said the situation had since improved.
The Royal Cornwall Hospital was behind the Blackpool Teaching Hospitals NHS Foundation Trust, which saw 76% of emergency patients within four hours in that week.
Targets achieved
Dr Tamsyn Anderson, from local health commissioning group NHS Kernow, said: "It does ring huge alarm bells with us.
"We will be looking closely at those numbers and those experiences to see why those breaches occurred and why these problems were experienced."
She said since last week the hospital had been achieving the targets, with instances of 98% of patients being seen within four hours.
A spokesperson for the hospital said in the week up to 12 January, there were "201 bed days lost" at the hospital.
'Speed up process'
Dr Anderson said there had been "significant improvements" and the figure had been reduced to "only 25 community waiters" by the beginning of this week.
She said: "That's been achieved through a real system-wide effort across primary care, community services and our social care partners."
Watchdog Healthwatch Cornwall said it was aware the emergency department "can struggle to meet the target".
It said it was also aware that the hospital had "put measures in place to address this and is working more closely with community health providers and other care support agencies to speed up the process of discharging people from hospital".
It said: "This should mean people can be moved through the emergency department faster as more beds will be available on wards when required."