Coyte Farm decision 'will be made outside Cornwall'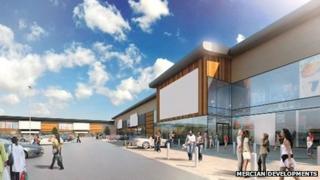 The final decision on a multimillion-pound retail park on the outskirts of St Austell will be made outside the county, an MP says.
Councillors in Cornwall turned down - by one vote - an application on Thursday to redevelop Coyte Farm near St Austell.
Liberal Democrat MP Stephen Gilbert said the next stage "won't be determined by local councillors".
Mercian Developments Ltd said there were "plenty of reasons to appeal".
'Very depressing'
Mercian Developments had Marks & Spencer, Sainsbury's and Next lined up as potential tenants, along with a petrol station and golf academy.
Critics said the development would damage town centre businesses, while supporters said it would boost the economy.
Mercian said the development was needed to attract bigger retailers to the area and it had also previously promised to support the town centre with subsidised parking.
The plans had been recommended for approval.
However, the final vote was 10 for and 10 against, with the final casting vote going to the chairman of the council's strategic planning committee, councillor Rob Nolan.
Simon Hoare, from Mercian Developments, said there were reasons to appeal as the company had spent time and money on the proposals for the past three years.
He said: "The idea that a refusal would then clear the decks and we would we disappear up the A390 in a cloud of dust is very far from the mark."
Mr Gilbert said the tightness of the vote "reflected the division of opinion within the community" about the development.
But he added there was now "every danger" the decision would be referred elsewhere, "out of the hands of our elected politicians".
He said: "This won't be determined by local elected councillors.
"The tightness of this vote suggests that the applicant will appeal, and the very depressing thing is we've now lost control of this decision and it will be taken by legal experts outside of Cornwall."