New camera will help breast cancer patients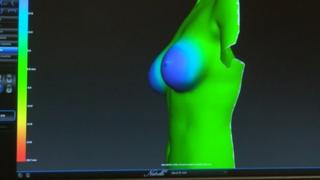 NHS breast cancer patients in Cornwall are the first in the country to benefit from new technology.
The 3D Vectra camera improves the quality of breast reconstructions and allows women to see how they will look after their operation.
The Royal Cornwall is the first NHS hospital to use the camera, which shows surgeons how to achieve the best possible result.
More than 3,000 women in the region are diagnosed with breast cancer each year.
The new camera provides detailed measurements and 3D images offering surgeons vital information to recreate the most natural looking breasts after mastectomy.
It offers the ability to view the breasts from every conceivable angle, allowing patients to see what the end result will look like.
Sheikh Ahmad, an oncoplastic surgeon at the hospital, said: "This machine provides us with the volume of the breast that we need to replace, where it should go and how we should do it."
Joyce Mepham who had both breasts removed eight years ago has decided to undergo reconstruction by keyhole surgery.
She said: "It's brilliant. It gives you lots of confidence. You just stand in front of it and it takes a picture."
The £40,000 cost of the camera came from charitable donations.