Cornwall Wildlife Trust's £340,000 nature reserves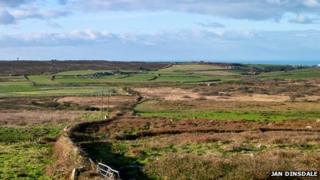 A wildlife trust is spending £340,000 to create two nature reserves.
The Cornwall Wildlife Trust has bought Bostraze Bog, near St Just, and Bartinney Downs, near Sancreed, after raising £36,000 in donations and being given a £199,900 lottery grant.
The trust said the purchase of the sites would help protect 84 acres of heathland and wetland habitats which were "home to iconic Cornish wildlife".
Wildlife includes skylarks, otters and "numerous dragonflies and butterflies".
The trust described Bostraze Bog as "one of the most important wetland wildlife sites in west Penwith".
The trust's Wild Penwith project manager, Liz Cox, said the organisation was "delighted" the support its public appeal had received.
She said: "Bostraze is part of one of Penwith's most spectacular wetlands and Bartinney's heathland offers breathtaking views out to sea."
The trust said the land cost £240,000 and the rest of the project budget would be spent on other work needed at the sites.
It included some capital works to improve access, build gates and pathways, erect information signs and carry out some habitat improvements, it said.
As well as working to restore and enhance habitats at Bostraze and Bartinney, the trust added it also wanted to investigate and protect historic features on the reserves, including a prehistoric hut circle and a medieval track.