Cornwall gains two stargazing Dark Sky sites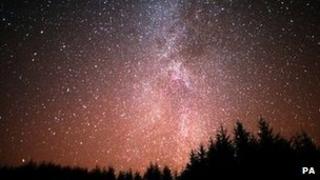 Two parts of Cornwall have secured "Dark Sky" status, meaning they are classed as some of the best stargazing locations in the UK.
St Agnes and Chapel Porth and the Carnewas and Bedruthan Steps, have been granted the status by the Science and Technology Facilities Council (STFC).
The sites are both owned by the National Trust.
The trust said the sites, on the north coast, were not affected by light pollution.
Pollution 'growing issue'
According to the STFC, Dark Sky Discovery Sites are given the status on the basis of being "accessible and free enough from light pollution to get a good view of the stars".
In order to be listed, a venue must have good public and disabled access, permission from the landowner and the Milky Way must be visible from the area.
Other sites in the South West with the status are the Exmoor Reserve and parts of the Isles of Scilly.
The trust said light pollution "is a growing issue for amateur astronomers".
It added that "as the sites were far away from towns and streetlights, you can still get a wonderfully clear view of the night sky".