Cornwall Council estimates storm repairs will cost £2m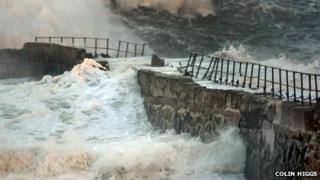 Damage caused by the recent stormy weather in Cornwall will cost about £2m to repair, the council has said.
Coastal areas have been particularly badly hit, including Newquay, Portreath, Bude and Looe.
Although some repair work has begun, people have been advised to stay away from potentially dangerous areas like harbour walls and coastal paths.
Flooding affected 65 properties - with Looe being the worst hit, the council said.
A number of landslips have also been reported - many of them around coastal paths.
The council said more unsettled weather was forecast, which could result in the risk of further landslips.
Council spokesman Dave Owens said safety was of paramount concern and teams would continue to carry out inspections across the county to monitor damage and areas known to be at risk.
"But with the ground completely saturated and further rain forecast, the public is strongly advised that further landslips are possible around the coast," he said.
'Please stay away'
"Our teams are working hard to repair the damage and protect the public... but I would urge people to please stay away from damaged areas and out of danger."
Earlier this week the car park at Portreath was evacuated because of the risk to people who went there to watch the storm and see the damage to the pier.
Work has already been completed on the slipway and South Pier at Newquay Harbour, but other damaged areas identified by the council include:
The lower wall at the canal entrance in Bude
Portreath harbour wall and pier
Newquay Surfing Centre at Fistral Beach
The sea wall at Newquay's Towan beach
The sea wall at Seaton Beach, near Looe
Sand that has built up against properties on Porthmeor beach in St Ives will be left in place for the time being to "provide a resistance to waves" travelling towards the properties.
However, the council said it was monitoring the situation and items such as large pieces of drift wood would be removed to prevent further damage to the properties.
The sand will be moved "when appropriate", the council added.
The cost of repairing the damage has been estimated at about £2m - £1.5m in the short term with an additional £500,000 in the long term.
Cornwall Council said meetings were being set up in affected areas to provide residents with support and gather information.
Councillor Geoff Brown praised the strength and resilience of Cornish communities and said they were to be applauded for "coming together to defend their local areas".
"In Perranporth local residents and businesses worked together filling sandbags on the beach to provide what protection they could against the onslaught of the incoming tides and heavy rains," he said.