Christmas trees buried in sands of Cornish beach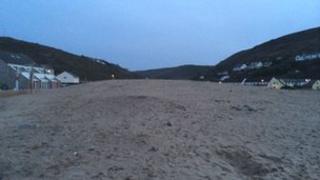 A controversial scheme to bury Christmas trees to prevent erosion on a Cornish beach has started.
Cornwall Council said the trees at Porthtowan beach would act as wind traps to allow the marram grass to grow and hold the sand together.
However those opposed to the scheme claim it is a short term solution and a permanent plan is needed.
Councillor Joyce Duffin said residents would see a difference within a year.
The Dune Management Group in Porthtowan said they have a low beach in the valley, so sand has always blown up through.
One member said there had been "several years of the sand accumulating at the front of the dunes."
Anne Corrigan, from the group said: "There is no point in planting trees until they move the sand. And that is what the majority of the villagers, as we understand it, want."
Council 'tinkering'
Alison Mills, another member of the group said: "All the council has been doing for the last 10 years is tinkering and it's making more and more problems."
The council said the sand dunes were used by many people for a range of recreational activities and over time, this had damaged the dunes.
It has attempted to manage the dunes in the past by putting up fencing and pathways.
Mrs Duffin said: "Everybody wants the sand dunes stabilised. We all think there has to be a lot more done than just planting Christmas trees.
"We can have volunteers planting them. If it goes wrong, we'll take the trees out, and we haven't lost money.
"The issue with moving a lot of sand first, is if we have a storm the sand all blows back."
The council hopes the Christmas trees will act as wind traps so marram grass could be planted in the spring.