Eden Project in Cornwall reports £6.3m loss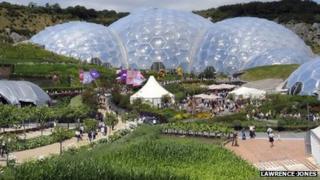 The Eden Project has reported its worst-ever loss.
The Eden Trust accounts for 2012-13 show a deficit of £6.3m for the year ending March 2013, compared with a surplus the previous year of £136,000.
The Cornwall eco-attraction said its underlying trading loss was about £1.3m compared with a profit of £3.6m in the previous year.
It said it had been hit by the 2012 Olympics, poor summer weather, and the economic downturn.
In previous years Eden received money from the South West Regional Development Agency - which no longer exists - and in December it emerged that over a three-and-a-half year period, Cornwall Council spent about £1.3m on the attraction.
Last year it said it intended to ask for help from the Regional Growth Fund (RGF).
Eden said it had cut jobs and made other changes since the accounting period ended.
Land sale
Eden opened in 2001 as a showcase for nature in a series of huge dome-shaped greenhouses.
An adult "on-the-door" ticket costs £23.50, a family ticket - two adults plus two children - can be bought online for £58 and there are reductions on all ticket prices for people who walk, cycle or take public transport to the attraction.
In its first 10 years it welcomed more than 13 million visitors.
But numbers dropped below one million in 2012-13 to 953,000 for the year, and Eden made 54 job cuts to its staff of 445.
It said in the accounts: "Eden has been reluctant to reduce its level of employment, but has concluded that this is essential to preserve and grow Eden for the longer term.
'Must do' attraction
"Eden is ensuring that the business will remain profitable even if visitor numbers were to reduce further."
Since March 2013, the attraction has also sold surplus land.
"With asset sales in the region of £2m, Eden expects to pay off borrowings and other liabilities totalling £3.3m during 2013-14," it said in the accounts.
Malcolm Bell, of tourism body Visit Cornwall, said the drop in visitor numbers was not completely surprising and, in his opinion, was due to a number of factors.
"Eden is a major attraction - a flagship - and when it opened it was a 'must do' both for local people and for visitors coming to Cornwall," he told BBC News.
"Repeat and return business is harder for Cornwall than the likes of London - what is a 'must do' the first time, becomes a 'maybe' the second time and in 2012 the weather killed off new trade for Cornwall and therefore for Eden.
"There are so many factors and price can be an issue because no-one gets the same value for money on their third or fourth visit.
"I think if you have 10 years of good trading, you tend to think that the world won't change that dramatically, which it obviously did."